Do you remember Teddy, the Corgi boy who thought that Christmas without Christmas cookies could never be a proper Christmas? This story ran originally from 1-25 December 2010 as an online advent calendar on www.corgihouse.de and is now available in book form in either German or English.
It will make the perfect gift for your friends or yourself!

The book, about 20.5x20.5cm (8"x8"), has 44 pages with more than 30 colour illustrations. It is printed on 170 g/m2 coated paper with hard or soft covers.
Currently the book is not available. Please visit our news for coming offers... :-)
Click to look inside the advance copy.
The bar with www.corgihouse.de will, of course, not be displayed on the pages oft he book.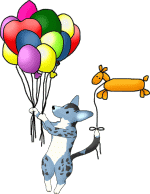 Zurück ins Corgihouse