Teddy was getting more and more depressed.
A bad leg on Christmas, perhaps Daddy would have to stay at the hospital??
Teddy felt rather stupid thinking about last year, when he believed that it could not be Christmas simply because there were no gingerbread cakes!
But Christmas without Daddy?
On the morning of Christmas Eve, Teddy always used to help Daddy with the decoration of the Christmas tree, and afterwards they fetched the Yule logs for the oven.
And Mommy and Taffy were busy baking. That's how it always had been.
But now?
Teddy was feeling even more miserable when he went to look for Little Bear. This was going to be Little Bear's first Christmas - a Christmas without Daddy, without a Christmas tree and without cookies...


The book, about 20.5x20.5cm (8"x8"), has 52 pages with more than 40 colour illustrations. It is printed on 170 g/m2 coated paper with hard or soft covers.
Currently the book is not available. Please visit our news page for coming offers... :-)
Click to look inside the advance copy.
The bar with www.corgihouse.de will, of course, not be displayed on the pages oft he book.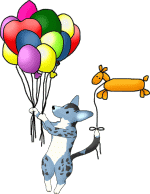 Zurück ins Corgihouse