Do you know the songs the trees are singing?
In every tree lives a small fairy. This has been known since way back.
Tree fairies are the souls of the trees.
Trees rarely make friends outside their own species and if they do, it is usually the work of a nosy little fairy.
This is the story of a friendship between the Corgi girl Taffy and the tree fairy Ceirt.


"Taffy and the Christmas Apples" is in English language and based on the Corgihouse Advent calendar 2014.
The book, about 20.5x20.5cm (8"x8"), has 68 pages with many colour illustrations. It is printed on 170 g/m2 coated paper with hard or soft covers.
The book is also printed in the original German version.
Currently the book is not available. Please visit our news page for coming offers... :-)
Click on the pictures to look inside the advance copy. Don't worry, the language in the English book will, of course, be English!! And the bar with www.corgihouse.de will, of course, not be displayed on the pages of the book.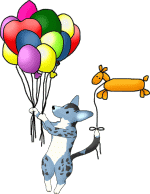 Zurück ins Corgihouse